Happy May

May is my favorite month of the year for many reasons. Many of you know why. Here are just a few of those reasons.

It is my birthday month, Mother's day is this month, my oldest son Michael was born on May 19th, and my Australia granddaughter was born last year on May 9th. Don't forget Mayfest and all the other outdoor festivals that happen this month.

Normally, I celebrate "me" all month long. So why should this year be any different.

We as women and some men are natural caregivers. We take time to do for others and give to everyone and everything, but we fail to put ourselves first. My May challenge for you (and myself) to is to pick a day or an hour and do something special for yourself.

I realize that life is really short, people that I know are leaving this world at a young age and a rapid pace, and I am not ready to be in that number. So I need to STOP…STOP and smell the roses, make some Felicia time to do nothing or something to celebrate me or something that makes me smile, and I need to do this when I can and while I can because tomorrow is not promised. Join in my quest to celebrate the good times.

I am so thankful for another year. God blessed me with one more year to be grateful and to be the person he put me on this earth to be. So if you see me smiling when I should be crying, smile with me. If you see me laughing, laugh with me. If you see me crying, take me hand and be my friend.

My mom taught me this little saying:
Smile and the world smiles with you. Cry and you cry alone.

I believe there a lot of people that would not let me cry alone.

EWI and me. What a great place to be…

Get involved and sign up for a board position. It will change your life and you will be a better person because You said "Yes" and Created an EWI Path.

Enjoy,
Felicia
May Meeting

EWISP & ASIST Scholarship Banquet
Thursday, May 12, 2016
5:30 pm - Reception
6:00 pm - Meeting begins

Location: Bernsen Community Life Center
700 South Boston, 2nd Floor, Lewis Conference Center
Tulsa, OK

Dress
Business or Business Casual

Cost
$40 Members and Guests
$30 Sustaining Members

RSVP by noon on Friday, May 6, by clicking the button below.

Please make checks payable to EWI of Tulsa and mail to:
Dana Nichols
Cimarex Energy Co.
202 S. Cheyenne Avenue
Tulsa, OK 74103
Cloud backup important files If you're working on a critical paper for school, work, or any other major project, make sure you are backing up the file not just locally. You can use services like Dropbox, Google Drive, or any of the other popular cloud storage solution which will do the legwork for you on the background. Of course, you can also throw the files on a thumb drive or external HDD just to be safe but backing up to the cloud can be done seamlessly which is twice the advantage.
Board Member Spotlight

President

Felicia Senter, Tulsa Tech
Would you prefer to read a book or see a movie? Read a book

Do you collect anything? Angels (my nickname is Angel) and Cookbooks

Dogs or cats? Dogs

If you were to tell one person "Thank you for helping me become the person I am today," who would it be and what did they do? My father Charles A. Jones. I told my father once that I wanted to make him proud of me and his reply was "Angel, I have been proud of you since the day you were born". I miss my daddy.

What is your favorite food/meal? Seafood and Mexican

What is a TV show or movie you can watch again and again? Pretty Woman

Which is the best vacation you have ever had? It hasn't happened yet.

Who has been the biggest influence in your life? My parents

Describe yourself in three words: Generous, Fun, Talented

What was the first thing you bought with your own money? Bought a pair of $89 Cream Vaneli Shoes

What is a skill you'd like to learn and why? To play the piano and fly an airplane. I took piano lessons when I attended Holy Family, but stopped playing when I went to middle school. If I had a pilot's license, I would rent a plane once a month and have lots of mini-weekend vacations.

What does a perfect day look like to you? Waking up at my leisure and having nothing to do, nowhere to be, and no one to take care of.

If you could travel anywhere in the world, where would it be? Australia to see my son and his family.

If you could speak another language, which would it be and why? French fluently. I studied French in high school and college and would like to relearn the language.

What was your most memorable childhood injury? I was riding my bike with my brother sitting on the handlebars and we hit a bump, my brother flew off and I hit the pavement. I had to have 7 stitches in my chin. My brother was fine.

What do you think the secret to a good life is? Having God as my anchor, and Peace

What do you like to do for fun? Travel, Experiment with new recipes and Dance

What are your favorite things? Socks, Journals, Books and Chocolate covered assorted nuts

What is your favorite color? Red

What makes you stand out in a crowd? My award winning smile, my infectious laugh, and my height.

Name five people you would like to meet in heaven? My father, Martin Luther King Jr., John F. Kennedy, Felipe Jones (my brother) and Lucille Ball

Do you have a guilty pleasure? Right now it is popsicles.



April Chapter Meeting
Highlights
Top Left Photo: Jamie Harris, Helmerich & Payne, Inc., Lynne Moore, Moore Funeral Home, Inc., Susan Miller, Warren Professional Building Corporation, and Trish Richey, Key Personnel

Top Right Photo: Linda Polson, Sustaining; Rita Young, The William K. Warren Foundation, and Roberta Montgomery, Helmerich & Payne, Inc.

Bottom Left Photo: Margaret Ames, Allegra Print & Imaging (?) and Allison Dickens, Ludger's Bavarian Cakery

Bottom Right Photo (left and around the table): Guest Maureen Quinn; Susan Layman, The University of Tulsa; Roberta Montgomery, Helmerich & Payne, Inc.; and Susan Lemon, Rib Crib BBQ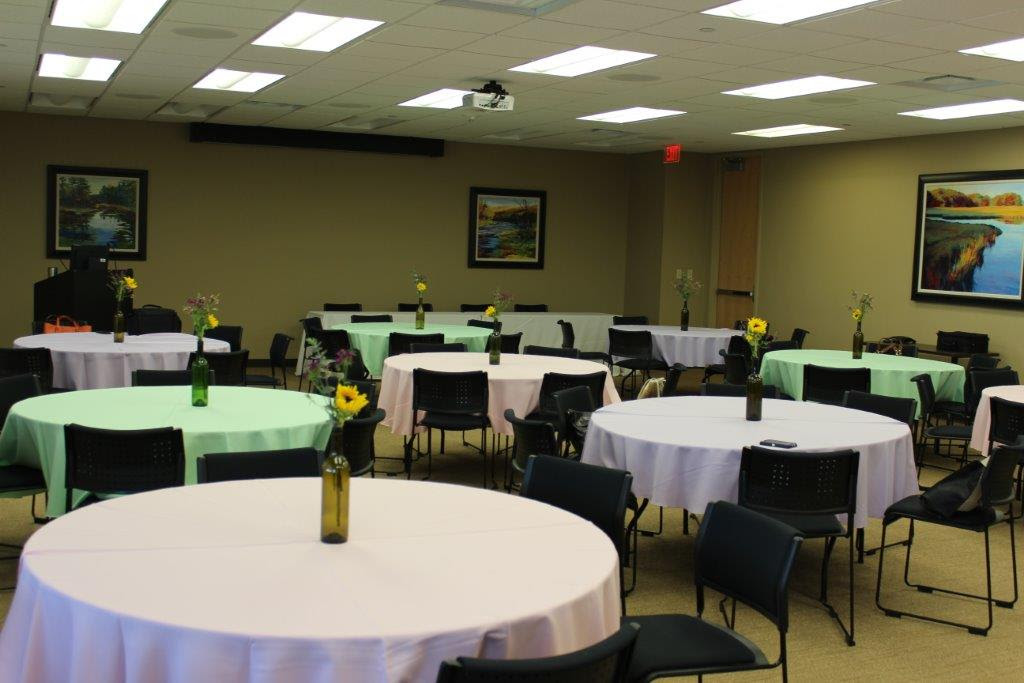 Beautiful Table Settings
April Meeting
Bishop's Building, Saint Francis South
Philanthropy Project
Sewing Hope – http://www.sewinghope.com/
Please save your can pop tabs and bring them to our monthly meetings. We will send them to Sister Rosemary and her students. Check out the beautiful handbag in the picture above.
BEST:
"The event was excellent and the topic of discussion was interesting and gave a reality check to ones health and the facts of life."

"The location was good, but a long drive during rush hour for those who work downtown Tulsa."
LEAST:
"The way the buffet table was set up - there should have been room for people to help themselves from both sides of the table."

"Program was too long and one of the three speakers was not the type of high quality for EWI events."
Note from Debbie Ash: It's that time to begin gathering willing participants to walk with me in the Walk to End Alzheimer's annual walk on Saturday, October 22, 2016. The name of our team is "EWI Memory Makers" and the Walk will be held at Guthrie Green in downtown Tulsa. More info can be found on my Walk page @ http://act.alz.org/goto/dash ("dash" refers to Debbie Ash). I'm looking for teammates to donate and walk with me, either virtually or in person. We hope to raise awareness and funds in the fight against the nation's sixth-leading cause of death.
If you have any questions, please e-mail me at dash@alz.org or give me a call at 918-392-5024.
School Recipient: Hawthorne Elementary
1105 East 33rd Street North

Principal: Dr. Estella Bitson

School Info: Pre-K-6th grade
Approximately 350 Students | 20 Teachers

The Reading Rally event will be held on a Friday morning in September, probably at their morning Assembly time of 7:45 am. Time not yet confirmed with school - the Committee is working on this information.

Current needs:
Dry Erase Markers and Erasers (classes use individual dry erase boards for students)
Specific Headphones for Nooks
Copy Paper
Storybook Stuffed Animals
Chairs for Readers
Decoration for Extra Event Holidays
The above are suggested items - waiting to receive teacher's wish list.
May EWI Birthdays
Representatives
May 3 - Susan Miller, Warren Professional Building Corp.
May 12 - Felicia Senter, Tulsa Tech
May 15 - Rebecca Parks, Mrs. DeHaven's Flower Shop
May 21 - Janna Eremita, Bixby Metro Chamber
May 25 - Nicki Boone, Renaissance Tulsa Hotel & Convention Ctr

Executives
May 2 - Terry Spencer, ONEOK, Inc.
May 8 - Don Walker, Arvest Bank
May 12 - Marcel TenBerge, Merrill Lynch
May 30 - Thomas Cooper, The William K. Warren Foundation

Firm Anniversaries
May 1975 - T. D. Williamson, Inc.
May 1998 - Tulsa Tech
May 2001 - Tulsa City-County Library
May 2008 - Tropical Plant Design, Inc.
May 2015 - CWW Media LLC/Social Vention
May 2015 - Panera Bread
President
Felicia Senter, Tulsa Tech
Felicia.senter@tulsatech.edu
918-828-5007
Vice President/President-Elect
Tonya Solomon, Clempire Janitorial Services
tonya@clempire.com
918-404-5539
Secretary
Reta Hallam, Manhattan Construction Company
rhallam@manhattanconstruction.com
918-878-3382
Treasurer
Dana Nichols, Cimarex Energy Co.
dnichols@cimarex.com
918-295-1708
Sergeant-at-Arms
Trish Richey, Key Personnel, Inc.
trichey@keyjobs.com
918-699-8537
B/C/DP
Heather Rettedal, Arvest Bank


hrettedal@arvest.com
918-631-1018
Membership
Angie Walters, Schnake Turnbo Frank


awalters@stfpr.com


918-582-9151, x242

Programs
Gayle Dicus, Mazzios LLC


gdicus@mazzios.com


918-641-1364

Communication
OPEN

Fundraising
Cynthia Sublett, World Travel Service, LLC


csublett@worldtvl.com


918-746-7239

Advisors
Dana Nichols, Cimarex Energy Co.
dnichols@cimarex.com
918-295-1708
Jody Davis
Accent Moving & Storage


jodydavis@accentmoving.com


918-251-5594

Linda Safley, Direct Energy Inc.


linda.safley@directenergy.com


918-493-9508
Judy Russell, ONEOK, Inc.
jrussell@oneok.com
918-588-7931
Our Vision

To be a professional organization that creates value for it's member firms and their representatives through career development, business connectivity, and involvement in local communities.



Our Mission

EWI brings together key individuals from diverse businesses for the purpose of:
Promoting member firms;
Enhancing personal and profession development, and,
Encouraging community involvement.